In 2010 Fondazione Marche replaced the participation of Marche Capital, founder of the initiative, and each year has provided € 200,000 through annual awards of € 20,000 to 10 start-up winners of the competition.
The partners have been very active and involved since the very beginning of the initiative, with the team remaining largely unchanged over the years: Marche Region, Marche Polytechnic University, Chamber of Commerce of Marche, ISTAO, Creval, Confindustria Marche, who have taken responsibility for organisational costs and training.
In recent years over 6,000 young people from all the Marche universities have participated in the contest free of charge, attending training courses in enterprise and business plan development.
Around 100 start-ups have been created, with more than 40 operating in innovative sectors.
Today the Marche region occupies a high position in the Italian start-up league table; this, we can proudly say, is due in no small part to the contribution of Ecapital, a pioneer and driver in enterprise creation in the region. Ecapital 2.0, 2019 Edition, will focus on: SMART AND COMPOSITES MATERIALS, MECHATRONICS and AGING.
Call open until April 15th!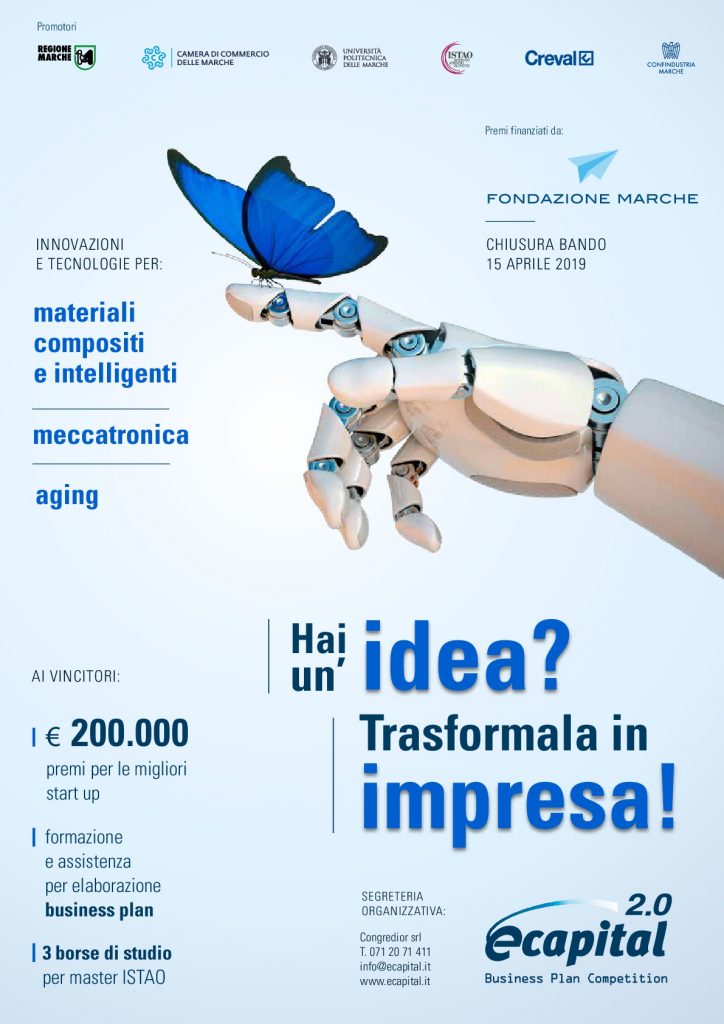 A long history of opportunities and successes